Smart Buildings have several things in common:
Integration of building systems on a common IT infrastructure or shared network utilizing open protocol and common HMI.
High-performance buildings that provide significant benefits to building owners, property/facility management professionals, and end-users.
Maximize building performance and energy efficiency.
Use open protocol and are technology neutral strategies that add long-term, sustainable value to the property.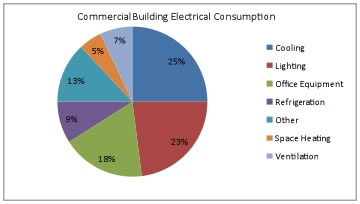 Smart buildings successfully merge building management and IT systems that can dynamically optimize system performance and simplify facility operations. Integration greatly reduces both the hardware expense and frustration associated with installing and operating multiple autonomous building systems.
How They Work
Integration begins with a common IT backbone or infrastructure, the majority of buildings utilize separate and usually proprietary systems that have their own controls, protocol, cabling, and HMI.

Once individual building systems are integrated onto one network they can be monitored and controlled by a single interface, accessible via a secure Web browser for unlimited user access. Additional use of a network operating center (NOC) allows for 24/7 monitoring and control of an unlimited number of equipment, systems, and buildings by personnel with the proper training and skill set.

Utilizing open-protocol such as LonWorks® and BACnet® allows the building systems to employ the best sensors and technology on the market while not being tied to a particular vendor or manufacturer.
Benefits and Capabilities
Tenant attraction and retention. A significant benefit to the building owner is the expectation that smart buildings can demand above-market rents, have lower vacancy rates, and can reduce turnover through higher customer service, added technologies, and increased efficiencies.

Reduced operating costs. Smart buildings are usually highly efficient buildings where operating costs are significantly lower than comparable buildings. Using accurate, intelligent monitoring and control of energy-intensive systems such as HVAC and lighting help reduce costs.

Energy metering. Integrated systems allow for sub-metering of individual tenants; tracking and automatically invoice tenants for their energy use. This not only gives the tenant control of their electrical costs but may allow for shared savings through demand response programs.

Fast and effective service. Smart building technologies give building management professionals the tools they need to better serve tenants, occupants, and users. Accessing building systems via the Internet makes it easier for facilities professionals to assess real-time conditions, detect problems, and monitor building performance off-site. Problems are identified early and solved immediately, sometimes prior to the customer realizing there is a problem.

Simplified operations management. Changes to a system can be made from a network operations center (NOC). The result is a leaner facility management operation which directly correlates to reduced labor costs.

Enhanced life safety and security. A fire situation is perhaps the most commonly cited example of how integrated systems are beneficial. A fire alarm is triggered and the integrated building systems respond: Smoke exhaust dampers open and fans operate, the paging and intercom system warns the occupants and issues instructions, the access-control system unlocks doors for evacuation, lighting is turned on, and security cameras provide emergency personnel with a view of the fire.

Mobile security systems. A Web-based security system allows security personnel the ability to view live video from surveillance cameras on a laptop or portable device. Future technology. Since technology and equipment are changing rapidly, a building with an IT backbone utilizing open protocol will be ready to support almost anything that comes onto the market. Additionally, with tenant needs changing, a smart building is flexible enough to adapt quickly.

Added revenue stream. Smart buildings can offer occupants wired and wireless high-speed Internet along with other communications services such as Voice over Internet Protocol (VOIP) that will maximize the building's revenue per square foot.

Environmentally friendly. Monitoring and control of energy use for the purpose of reducing consumption defines a green building. While it may be possible to have a green building that isn't smart, all green buildings will have some form of a building automation system (BAS). The BAS could allow a daylight-harvesting system to work together through an IT backbone with interior lights and photoelectric and occupancy sensors to provide optimum light levels and save energy use.
Saving Costs, Building Value
Intelligent buildings eliminate redundant technology, saving money in the process. The consolidation of the basic cable and pathway infrastructure reduces the installation costs of parallel infrastructure.

Now that price points have dropped, open protocols are more common, and IP has matured, intelligent buildings may soon become the norm instead of the exception. Escalating energy costs, interest in green buildings, and a slowing real estate market (causing increased competition for tenants) are all catalysts for widespread adoption.